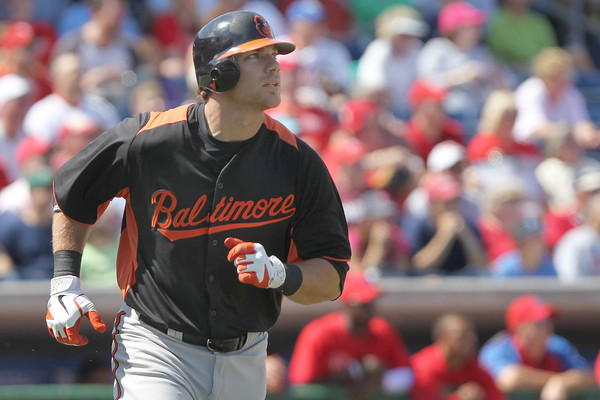 It's time to learn the Baltimore Orioles' first baseman's name.  It's Chris Davis and he is really good.  For years, Chris Davis was a struggling first baseman, shuttled up and down between the Texas Rangers and their AAA affiliate.  He never could make it big at the Major League level, and as Mitch Moreland progressed Davis was shipped to the Baltimore Orioles.  He has since blossomed into one of the best power hitters in the game and should anchor a scary good Orioles lineup for some time.  Last year he clubbed 33 homers while hitting .270. This year, he's putting that to shame hitting .359 with a league-leading 20 home runs, .754 Slugging, and 1.194 OPS.  It's time to learn this guy's name.
Our fantasy league was all over him when we held our draft in spring training and I had to pay $22 to acquire his services for the Ballbusters.  (Side note: The Ballbusters are struggling this year for the first time in four years, and I really don't know what to do about it.  I've got to stick with Jason Heyward and David Freese, and hope that they come around, but it's looking increasingly baaaad.)  I was unhappy as soon as the words "twenty-two" came out of my mouth and the first baseman was mine.  Davis was a sleeper pick that I liked before the season, but certainly was not in love with and I knew little of where he'd come from or how he'd repeat the success from the previous year.   I feel like I know too much about baseball and still, Crush Davis was a foreign name to my ears.
Not anymore.  In the first two months of the season, his performance has prompted national writers to seriously consider his attempt at a Triple Crown.  As ludicrous as that feat is for a guy who once platooned with Mitch Moreland, Davis' first two months merit the recognition.  If it weren't for a guy named Miguel Cabrera, Davis would lead all three of those illustrious hitting categories.
As a corollary to the Chris Davis success and the Manny Machado show, consider how good the Orioles' lineup is:
Nate McLouth LF
Manny Machado 3B

Nick Markakis RF

Adam Jones CF
Chris Davis 1B
Matt Weiters C
JJ Hardy SS
Chris Dickerson DH
Ryan Flaherty 2B
That lineup is really good even with the black whole at second base thanks to Brian Roberts' chronic injuries.  They boast the world leader in doubles, the world leader in home runs, a star centerfielder, and one of the more underrated outfielders in the game today in Right Field.  They've also got a catcher who has shown the potential to be great and a shortstop with 30 homer seasons in his past.  Add in a resurgent Nate McLouth, and manager Buck Showalter is virtually handcuffed to bat the potential Triple Crown contender in the five hole.
None of these guys give the pitcher an opportunity to relax and I expect big things all year from this lineup.  I'm just not convinced their rotation can continue its patchwork magic from a year ago.
Someone asked me who was leading the Majors in home runs the other day and I said Chris Davis.  The response was "Who's that? Is he good?"  I will not run a blog any longer wherein I fail to make Chris Davis a more common name to baseball fans.  His sweet swing and great power should be recognized globally.
-Sean Morash
Stat of the Day: Dominic Brown is second in the world in home runs.  Yes, Dominic Brown.  He's hit nine home runs since May 25th (that's a ten game stretch, if you weren't paying attention…) and six since I've been in Germany.