Wandy Rodriguez Injured, Gerrit Cole takes them to the Pennant?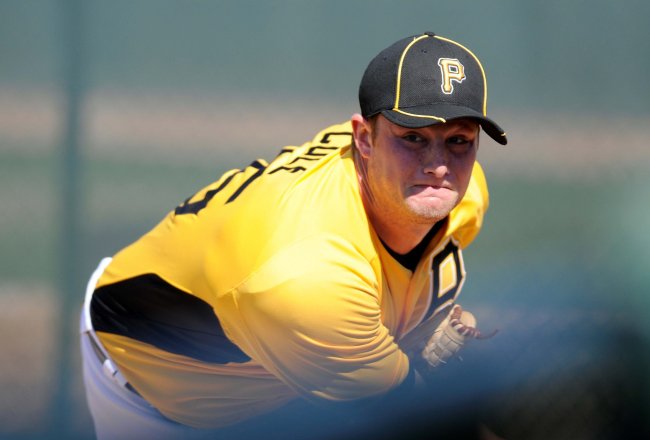 Pittsburgh Pirates left handed pitcher Wandy Rodriguez left yesterday's game against the Atlanta Braves after recording one out thanks to what is being described as left forearm tightness.  That's his throwing arm and that's especially bad news for an organization that just put Jeanmar Gomez on the Disabled List with forearm tightness of his own.  That's two starters in under a week that came out in the first inning and the cynic in me has to believe that both of these guys will be out for awhile, with one or possibly both heading for Tommy John.  Also, James McDonald is recovering from a sore shoulder and should be ready sometime in about two weeks.  They've also got Charlie Morton semi-ready (and coming off of his own TJ surgery), so the right hander and his 5.06 career ERA should fill one of these two spots.  The other?  It's gotta be top prospect Gerrit Cole.
Tim Wilson over at PiratesProspects.com traces out the projected rotation (given off days and keeping guys on schedule) and finds that the Pirates won't truly need a 5th starter until June 15th at home against the Dodgers.  What a perfect time to call up their number one prospect!
The Pirates were just swept by a very good Braves team and nearly no-hit in their last contest.  The currently sit in third place in the NL Central behind two of the three best teams (per win-loss record) in Major League Baseball.  Still, they are 10 games over .500 and this year feels like the year, at least to me.  The reason? They've actually got reinforcements coming in the event that their team wears down as the summer progresses (Like maybe a top prospect named Gerrit Cole).
Cole was ranked as the #7 prospect in baseball this year by Baseball America after being drafted first overall in 2011.  He's touched 102 on the radar gun, but sits closer to 94-96 with his two-seamer.  He's got a great slider at 87-90 and could overpower hitters throughout the world if he masters some command issues.  Want some more good news? Cole recognized the window of opportunity and busted out of the "AAA funk" that has plagued him all year (though he's currently got a 2.91 ERA).  He fired 7 shutout innings last night and is due for another start before that June 15th date.
This Pirates franchise is one I want to believe in. They've got one of the most beautiful ballparks in the game and a centerfielder who's extremely fun to watch play.  Andrew McCutchen even graced the cover of the video game for MLB The Show.  They've also got a Left Fielder doing his best Andrew McCutchen impersonation (Starling Marte).  They boast a bullpen that has been as lights-out-when-it-matters as you can ask for.  Jason Grilli, Mark Melancon, and Justin Wilson all sport ERA's under 1.30.
After 20 years below .500, I've got to think that the Pirates need to make the appropriate moves to do everthing they can to win the NL Central, NLCS and eventually World Series without dessimating their future.  I'm not sure they've got all the pieces to make it happen, but the Oakland A's didn't have anyone convinced until the last week of the season.  Behind McCutchen, Marte, AJ Burnett, Jeff Locke (2.45 ERA in 12 starts), Francisco Liriano(2.17 ERA in 5 starts), and Gerrit Cole, the Pirates can make the postseason.  They've got some of the pieces in place and it's time that the Pirates organization make the daring move to not promote Brandon Cumpton (actual prospect in the Pirates organization who could make that start, unfortunate name), but rather call up the guy that can make that difference.
I believe in these Pirates.  I just hope they do too.
Stat of the Day: Mike Redmond has a .267 winning percentage as the Marlin manager.  That'd the second worst since the turn of the century for any manager with at least 60 games managed. And if the Marlins lose tonight, he'll have the worst.