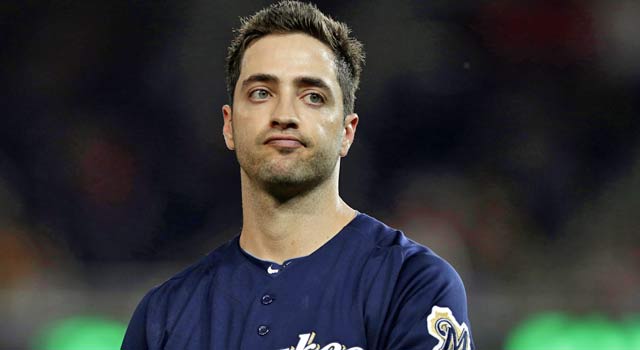 Milwaukee Brewers star outfielder Ryan Braun has a sore right thumb that has necessitated a DL stint.  Barring any sort of performance enhancing drug that might miraculously bring Braun back in time for next weekend's series against the franchise that called Milwaukee home in the 60s and 70s, it's time for this iteration of the Brewers to fold their hand.  Braun, now scared to use PEDs given recent close calls with the testosterone police and even potentially facing a 100 game suspension should Anthony Bosch talk, will have to heal up au naturale.  But wait, what am  I saying?  Ryan Braun would never use steroids to gain an edge.  Never.  Ok, fine, Braun bashing aside, he's a great player and will be missed incredibly.  With the emergence of Jean Segura as one of the game's most exciting young shortstops alongside Carlos Gomez becoming–well, becoming CarGo Part Duex–the Brewers have some good things going for the future, and that future should be their focus.
The fact is that they're in last place in the NL Central at 27-39 and are 15.5 games out of first place.  The two top teams in baseball are in their division, and a third I seriously believe in.  Even with a healthy Braun they're not winning this year, not with that pitching staff.
Brewers pitchers sport a 4.39 ERA, good for 28th in the majors.  Their starters have a 5.23 ERA (worst in MLB), have pitched just 366.2 innings (worst in NL), have a 1.42 WHIP (worst in NL), and 260 strikeouts (25th in baseball).  They're bad.  And they're not going to get better.  Sure, Chris Narveson might be back soon, but his start last night left something to be desire.
Narveson (0-2) suffered the loss in his fourth rehab outing with the Sounds, allowing five runs (three earned) on three hits while walking five batters and striking out four in his 4 2/3 innings of work.
Consider the five guys with the most starts for the Brewers.  Their 2013 ERAs are as follows: 4.74, 3.83, 6.03, 5.32, 6.44.  Yovanni Gallardo is better than his 4.74 ERA indicates, and Kyle Lohse should be counted on to post something that starts with a three.  But the other guys?  Starting games on a team trying to make the playoffs?  Not a chance.
The good news for the Brewers?  They've got Major League assets that other teams could be interested in acquiring.  Their bullpen has some pieces that could be on the move.  K-Rod is currently posting a 0.79 ERA and is walking a career low 2.4/9IP.  Jim Henderson has a 1.66 ERA and has closed some games.  If John Axford figures it out some teams could come calling, and Tom Gorzelanny belongs on a contender.  A few relief pitchers wouldn't bring the haul to make it worthwhile in Milwaukee, but combining one of these guys with a position player could be a package to bring in a potential quality starting pitcher.
Corey Hart is a free agent at year's end and is expendable now that Carlos Gomez is for real; Ryan Braun mans Left and Norichi Aoki can play a solid right field.  Sure, first base has been a problem (and is where the Brewers had Hart penciled in), but he's valuable to contenders as an outfielder.  News came this week though that Hart will be out until after the All-Star break, which leaves just a few weeks of playing time before the July 31st trade deadline for Hart to prove his health and worth to other teams.
Aramis Ramirez is due $16 Million next year, and is on the wrong side of 33, but the third baseman is still hitting .288 with a few homers and holds value because of his resume and 2012 renaissance.
As for trade proposals, here's a few that could make sense:
Los Angeles Dodgers send Ross Stripling, and left-handers Chris Reed and Onelki Garcia to Milwaukee for Aramis Ramirez, K-Rod, and Tom Gorzelanny.
Atlanta Braves acquire K-Rod for Zeke Spruill.
Really, those are the only two trades that make a bunch of sense right now off the top of my mind.  In looking at the third basemen across the Majors, only the Dodgers would be willing to acquire Aramis Ramirez's services with a contract like that and part with prospects in the process.  The relievers represent real potential in trade scenarios as there are many teams in need of extra relief pitching as Tommy John has taken too many again this year.  The Hot Stove has not exactly fired up, but putting good relievers on the market early could bring a good return.  It's at least worth a shot.  It will be up to GM Doug Melvin to shop his guys and find the best deal.
With Braun out for a few weeks and bad starting pitching, the Brewers season is effectively over.  It's time to get the best assets for a run at next year.
-Sean Morash
Stat of the Day: Ryan Howard won the 2006 MVP beating out Albert Pujols' .331 average, 49 homers, and 137 RBIs by batting .313 with 58 homers and 149 RBIs.  To continue to detract from Miguel Cabrera's 2012, in which he hit .330 with 44 homers and 139 RBIs, Pujols would have beaten him in two of the three Triple Crown categories, as would have Ryan Howard.