Eric Stults Good Again; All-Star Bound?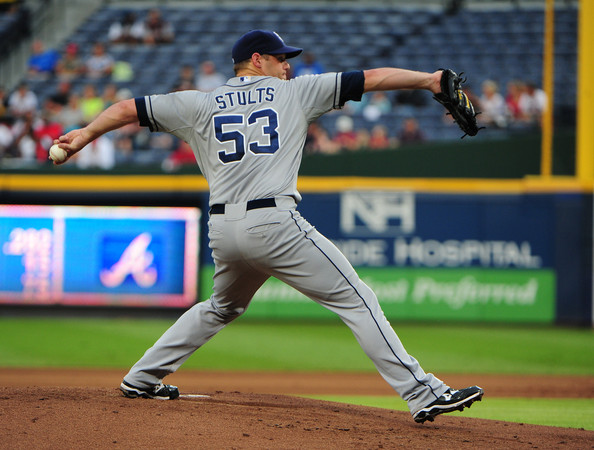 San Diego Padre left handed pitcher Eric Stults had been a fringe starter in the Major Leagues for about a decade before the Padres gave him a real opportunity.  Stults has responded with a 3.08 ERA across 28 San Diego starts.  I became a fan of Stults' after he made Braves hitters look stupid last August 13th–fanning three, and giving up just one run in 7.2 innings to lower his ERA on the season to 2.49.  After last night's 6.1 innings of two-run ball (he left after allowing a Tony Abreu single to left field and Luke Gregerson thought it might be fun to give up four straight hits) in which he simply got people out, his 2013 ERA sits at a very solid 3.25.  On the heels of last week's complete game two-hitter, it might be time to admit that Eric Stults, despite throwing pretty slow, is surprisingly pretty good.
Pitching is clearly the answer to the riddle of the Padres improbable .500 record.  Just three games back in the NL West despite Cameron Maybin, Yonder Alonso, Everth Cabrera, and Jedd Gyrko on the DL, guys like Stults, Jason Marquis, and Andrew Cashner have stepped up.  Marquis and Cashner you've heard of–Marquis for his persistent mediocrity (over 13 seasons he's amassed almost 1900 career IP with a 4.55 ERA), and Cashner for throwing 99 mph as a starter.  But Stults?  Nobody knows Eric Stults.
The left hander's 88.4 mph fastball doesn't exactly pop any eyeballs, but the results are starting to.  Where Yasiel Puig and so many other Major Leaguers succeed on the merits of Herculean physical attributes, Eric Stults find success by changing speeds, keeping hitters off balance, and precision control.  He should be the layperson's favorite pitcher.  His curveball this year has been clocked as slow as 61 mph and opponents are still hitting just .222 against it.
Stults was drafted in 2002 in the 15th round by the Los Angeles Dodgers.  He went to Bethel College, which tells you both a bit about how highly he was regarded out of high school and a bit about his Christian ideals.  (Bethel also boasts alumni Justin Masterson, but the two never played together.)  Stults bounced around, starting two, five, seven, and 10 games for the Dodgers from 2006-2010, then pitched 12 innings out of the bullpen in 2011 for the Rockies.  After pitching six innings for the White Sox in 2012 (the second game of a double header), he was claimed off of waivers by the Padres and given a chance to start. The rest… is what I'm trying to bring to your attention.
Stults has been really good!
Consider this leaderboard.  Stults' 3.08 ERA since the beginning of 2012 puts him 13th among pitchers with at least 180 IP.  He's up there with the likes of Jered Weaver and ahead of David Price, RA Dickey, Matt Cain, Madison Bumgarner, Adam Wainwright, Mat Latos, and Cole Hamels.
When we talk about guys that are underrated, often it's players who are really good that everybody knows are good but still go under-appreciated that headline the list.  Stults is too much of a no name to make the underrated list.  Granted, he's about to reach 100 innings in a season for the first time ever, but I think he should be getting some more publicity.  Fans should at least know who he is.
So the question becomes: how do we get fans to know who he is?  Answer: We put him in the All-Star game!
None of you would laugh at me for suggesting that Madison Bumgarner pitch in the All-Star game.  Take a look at how similar the two have been.  Both boast a 3.25 ERA, both have pitched 97 innings, both have a Groundball rate of about 42% and a Left on Base rate of about 73%.  They're basically the same pitcher.  However, the 3.25 ERA is currently good for 21st in the NL.  That's not quite good enough for an All-Star team until you remember that each team has to represented.
Who will be the Padres representative?  Chase Headley?  Not with a .224 average.  Everth Cabrera's hitting .305 with 31 steals at shortstop, but he's also on the DL right now making his future a bit uncertain.  Ok, so Huston Street?  4.24 ERA.  Luke Gregerson? 2.51 ERA and only three saves.
Why not Eric Stults?  America loves a great story; they love a guy they can relate to, and the Padres need to be getting some more attention.
If nothing else remember this: Eric Stults is the slow throwing lefty for the Padres (not Clayton Richard) and is pretty damn good.
Stat of the Day: Miguel Sano, Twin's 3B prospect whose saga made for the Bobby valentine-produced documentary Pelotero, is hitting .312 with 16 homers.