Gallardo, Smardzija Jewels Of The Trade Market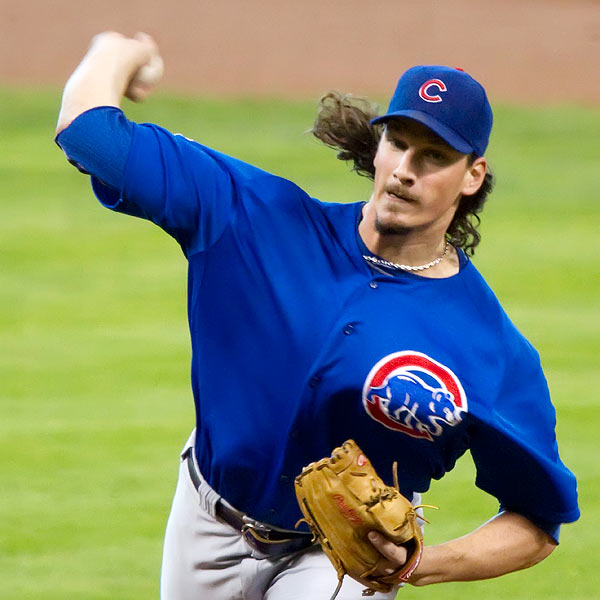 With the MLB trade deadline slightly more than a month away, talk has begun to heat up.  As July 31st nears, teams on the fringe of contention look to fill out rosters for the stretch run. Out in the NL West, deadline competition could get intense. The Diamondbacks, Dodgers, Giants, Rockies, and even (a little, sort of) the Padres, all fancy themselves as contenders for the division crown–and all are at least one starting pitcher short of making those fancies reality.
But with so many teams still in the hunt, the pickin's are slim. Ricky Nolasco has been the subject of many rumors lately and will likely be dealt by the Marlins in the next few days. The problem with trading for Nolasco is that once you get him, he's still Rickey Nolasco, meaning he's still really not very good. The same goes for some other possible trade target pitchers like Bud Norris and Phil Hughes.
On the other side of the spectrum are guys like the Brewers' Yovani Gallardo and the Cubs' Jeff Smardzjia. Unlike Nolasco, Norris, and Hughes, Gallardo and Smardzjia are actually good.
Gallardo has been the ace of the Brewers staff for a while (Greinke aside). He's made at least 30 starts in each of the last four seasons and he leads the league with 17 starts this year so you know he's durable enough to take the ball every 5th day. Further, while he's struggling a little this season on a terrible Brewers team, Gallardo has never posted an ERA higher than 3.84. He would be a top of the rotation infusion for any team that picked him up this month. For some, he'd be a real difference maker. Gallardo would be the game three playoff starter on the Dodgers after Clayton Kershaw and Greinke, and, while it's a stretch at this point to see LA in the playoffs, that would be a formidable 1-2-3 punch. In Arizona, he might actually be the Game One guy given the inconsistency or inexperience of many of the Dbacks other starters.
There's another reason that Gallardo would be a huge acquisition which I will touch on in a minute.
Smardzjia is the Cubs best pitcher.  (They also have Matt Garza, who would make a nice addition to a contender as well–certainly better than Nolasco or Hughes–but I feel less like writing about him and wanted to test my typing accumen with "Smardzija.") But Smardzija is even better. He's 28 and only in his second year as a starter.  His evolution to Ace status has him with an ERA in the 3.3′s this season. He throws absolute fire and while he's not as proven as Gallardo or Garza, he has a much higher upside. Smardzija can dominate for stretches at a time and even when he doesn't, he won't implode on his bad days (like Garza). He's shown impressive consistency and would be a great fit with the Dodgers, Giants, or Rockies. The Diamondbacks might benefit from a guy with a little longer resume.
The biggest reason that Smardzjia is such a trade deadline catch–and this ties back to that other point I wanted to make about Gallardo earlier–is contract. Smardzija is under team control until 2016 at just under $3 million a season. Whoever can pick him up now can keep him for a bunch more years, presumably during the prime of his career, at an extremely team-friendly rate. In three years, it's very possible that Smardzjia and his salary will be the envy of 29 general managers who don't have him.
Gallardo is set to make quite a bit more money but is still under team control through 2015. He makes more than $7 mil this year then about $11 mil the year after that and has a $13 million team option for 2015. While that is a steep price for many clubs, Gallardo is a proven commodity and quality arm.
Last year, the Rangers traded for a half season of Ryan Dempster only to watch him walk away at the end of the year and sign with a rival. With Smardzjia and Gallardo, teams can make a run at the 2013 World Series crown and keep their player around to try again and again in the future.
Stat of the Day: Kyle Gibson is making his MLB debut today for the Twins. He's on.