Garza to the Rangers, Cubs Win Big On This One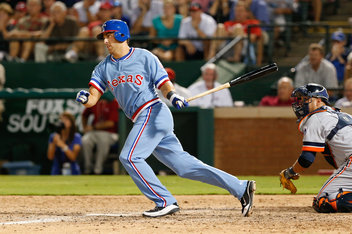 As I sit to write this post, I've learned that Ryan Braun has been suspended for the rest of the season. I've chosen to write about this instead.
Today, the Cubs traded starting pitcher Matt Garza, the most coveted arm on the trade market, to the Rangers for prospects Mike Olt, Justin Grimm, CJ Edwards, and a fourth player to be named later. The Rangers added Garza to a thin starting rotation and positioned themselves for a playoff run. The Cubs added two guys who could be legitimate impact major leaguers and another that has a shot too.
Mike Olt was the biggest name in the Rangers farm system now that Jurrickson Profar is a major leaguer. Olt has had some serious vision problems this season which limited him to a .207 batting average and 10 homers in AAA so far but he should be able to recover from his health issues and if he does develop into the prospect many projected before this season, he could be a fixture at third base and in the middle of the Cubs' lineup for the next decade. Along with Starlin Castro and Anthony Rizzo, Olt could contribute to a formidable middle of the order. Trading Garza, a good but not great pitcher on a team going nowhere, for a player who, while a risk, is poised to be franchise caliber player on a team with promise, is a great move for Theo Epstein and the Cubs.
CJ Edwards was a rising star in the Rangers system. While only 21 and at Single A Hickory, Edwards has posted an 8-2 record with a 1.83 ERA in 18 starts. In 93.1 innings he's surrendered only 62 hits and though he's walked 34, he's struck out 122. Those are downright dominant  numbers and recently some evaluators had him ranked as highly as the 5th best prospect in an impressive Rangers system. If Edwards reaches his ceiling, he could be a solid starter right at the time the Cubs big offensive players hit their stride. Again, for a free-agent-to-be veteran on a bad team, not a bad pick up.
Finally, Justin Grimm is the most experienced of the players the Cubs added. Grimm has struggled some this season, his WHIP is near 1.7 in 17 starts and his ERA is north of 6 but the Cubs can give him the time he needs to figure it out. Grimm projects as a solid back of the rotation guy and he might fair better in the NL than the meat grinder that is the AL and the AL West. Grimm is clearly the smallest piece here, but he too can be a solid, productive big leaguer on a winning Cubs team in the future.
For Texas, Garza is a good pickup. They've been after him for weeks and he gives them a potent top of the rotation for the rest of the season. Garza will slot in behind Yu Darvish and Derek Holland and his 3.30 ERA and and 1.1 WHIP will look nice next to their gaudy numbers. Basically, the Rangers, in a dog fight for the division with the A's and hoping the Angels don't wake up and Mariners don't start spoiling everybody else's fun, just took their worst starter, Grimm with 6.3 ERA, and turned him into what could be the best 3 starter in baseball right now.  The Rangers now have 4 starting pitchers with and ERA below 3.31 (Alexi Ogando). They now have a deeper rotation than the A's, the Tigers, the Red Sox, the Orioles, and maybe even the Rays.
Problem is, paper success doesn't always mean on field success. The Rangers still have to get the job done the rest of the season and then, hopefully, in October. We've seen them fail to do this too much in recent seasons. That's why this is a better deal for the Cubs.
There's risk involved here for Chicago, there always is with prospects, but the Cubbies are in a position to take this type of risk. We knew they were going to move Garza but I, for one, thought the haul was going to be way less impressive than this. This trade has the potential, if everything goes right, to be a franchise changer for Chicago. That's worth the risk.