Paul Konerko To The Pirates Is A Real Possibility…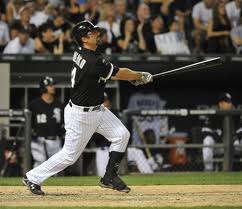 Before I begin, let me qualify the title. Paul Konerko to the Pirates is not a real possibility. Or actually, it might be. I have no idea. The point is that Konerko to the Pirates makes a ton of sense for everybody and even though I haven't heard word one about it actually happening, it should.
Paul Konerko is the consummate White Sox. He has played the vast majority of his career on Chicago's South Side, and while a carousel of bigger personalities have taken up the "face of the franchise" mantle, Paul's were the broad shoulders upon which those faces have stood. So well respected in Chicago is Mr. Konerko that prior to the hiring of Robin Ventura a couple of winters ago, I wrote a serious post claiming that he should be considered for player-manager. However, there are some serious indications that Konerko, a 17 year veteran and 6 time All-Star, is strongly considering retirement after this season. Konerko is 37 years old and is without a doubt the slowest player in all of baseball. He's also had some injury problems limiting him to 85 games this season and it makes sense that he might be ready to hang it up.
At the same time, the White Sox are an abomination this season. They sit last place in the AL Central, 25 games behind the Tigers and almost 30 games under .500. There has been talk that Konerko might like to finish his last season in the midst of a pennant race, and these White Sox do not offer that in 2013. There has also been talk that the White Sox would gladly honor a Konerko request to be moved to a contender. Paul is going down as a White Sox great no matter what. A couple of months on another team at the very end of his career isn't changing the fact that this player and this organization are joined at the hip. Much like the Atlanta Braves and Chipper Jones. Konerko is and will always be the central figure of an era for the White Sox and it would be a service to him if they were to place him on a contending team if he so requests. Both parties know this.
If Konerko wanted to be moved (and passed through waivers, but we'll ignore that for now because this is one of my macro, big idea posts not my nitty-gritty detail posts), the Pirates would be a very logical destination.
Pittsburgh is 70-46, 3.5 games up on a very tough NL Central and on the verge of its first winning season in 2 decades. Their biggest weakness as they push towards October (for the first time since the first Bush Administration) is in right field. Jose Tabata is hitting in the .250s and has 3 homers–not much production from a position that for many teams is the most important offensive spot on the field. Meanwhile, Garrett Jones is capable of catching the occasional fly ball, and while his numbers are only marginally better that Tabta's, his line would play better in right–if only the Bucs could get commensurate production from first base.
If the Pirates were able to stick Konerko at first, they could move Jones out to right more often and put Tabata on the bench where he goes from a below average starter to a valuable weapon. Konerko is a marginally better defender than Jones at first but he is a veteran presence that the Pirates could put in the middle of the batting order, maybe 5th or 6th. Konerko has October experience that the rest of this team lacks (for whatever that's worth) and still has the offensive prowess to be a major factor.
That's the thing about this trade: Konerko is still a great player, a top quality first basemen that could take a really good Pirates team and make it great. Yes, I know Konerko's numbers this year are way way way down. I know he's batting a career low .245 and has also posted career lows in on base, slugging, OPS, and WAR and has exhibited all the signs of a player whose career really should come to an end–but I have faith. I'm willing to pin all those terrible statistics on his situation. It is hard to be a productive player on an abysmal team, especially if you see the end of your career looming. If I'm the Pirates, I'm willing to bet (especially since the White Sox would take on much of the actual cost) that being tossed into the middle of a heated pennant race would reinvigorate Konerko.
Even if he improves just a little, he'll be better than what the Pirates have now. Worst case, he'd make a great pinch hitter late in meaningful September and October games, a la Jim Thome a few years ago.
This is one of those deals that really should happen. We got some great August blockbusters last season, let's try this one out in 2013.
Stat of the Day: In the live ball era, of pitchers with at least 1000 innings pitched, Clayton Kershaw owns the lowest career ERA.