Pittsburgh Pirates Acquire Missing Piece, Locked And Loaded For Postseason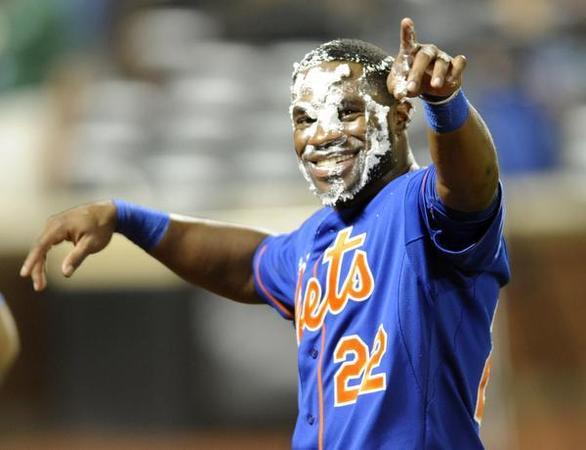 The Pirates picked up Marlon Byrd and John Buck from the Mets in a phenomenal move that sets them up for success in both the short and long term. While it's true that adding players off of the Mets roster is usually a sign of complete and utter surrender and/or desperation from whomever is unfortunate enough to succumb to Sandy Alderson's sales pitch,  in this case, Byrd and Buck are major improvements for a team that only needed a little tweaking.
As I've written here before, the Pirates, currently a half game out in the NL Central and playing poor baseball of late, have a major hole in right field. In fact, their right fielders have been among the worst in baseball, posting a cumulative .245 average.  I suggested the Pirates make a move for the Dodgers Carl Crawford before the July 31 trade deadline and laid out a compelling (if I do say so myself) case that the deal would work for both sides. I also wrote about Paul Konerko being a solid first base option for Pittsburgh that would allow them to move Garrett Jones out to right and give Konerks a shot at a ring in what is likely his final season.
Of course, the Pirates didn't listen to me, but the move they did make–and needed to make–was a good one. Byrd is having a career year hitting .285 with a career high 21 bombs. He's over .300 since the All-Star Break. Byrd's wRC+, my new favorite stat, is 135, meaning he is producing 35 runs more than the average big leaguer, after controlling for ballpark effects. Of course, Byrd's BABIP is through the roof and he's due for a regression but there's no reason to think that that would happen anytime in the next month. (Because, right?) Byrd is under contract for only the remainder of this season at less than $200k and he turns what was a black whole in right into a position of legitimate production. If Byrd bats .275 with 5-7 homers through the rest of the season, this trade was a win for Pittsburgh.
Buck is also having a great year. He was the starting catcher for the Mets for most of the season and has socked 15 homers to go with 60 RBIs. Now, Buck wouldn't be a great option as a starter on a contending team, but as a backup catcher/pinch hitter, he's a major upgrade over what the Bucs have now.
The real key to this trade is what Pittsburgh gave up, however, and not for the reasons you might think. The Pirates gave up a legitimate, good prospect. Granted, he's in A-ball, but Keith Law thinks he could be an average-above average starting second basemen in the big leagues some day. The fact that this prospect is good is a great thing for the Pirates and their fans.
Really.
This move shows that Pittsburgh understands that the time is now. True, even with Byrd and Buck, the Pirates chances for winning this year are not great–no better than 1 in 10 actually–but the fact is they are trying. This is a franchise with an unparalleled history of futility. Poised to finally snap a two-decade long streak of consecutive losing seasons, the time is most certainly now. They aren't shell-shocked by success, they are in it to win it and making a concerted effort to improve their chances while those chances are better than they have been since the Clinton administration.
Good luck, Pirates, America's team! We're all rooting for you.