Freddie Freeman Should Be Legitimate MVP Candidate
Updated: September 3, 2013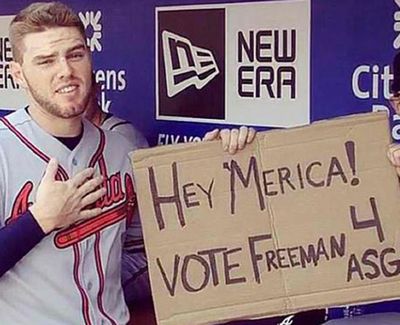 If I told you that a certain team had 2 everyday starters with batting averages below the Mendoza Line (despite one of those players posting a 4 hit game this week), a starting right fielder and Ace starting pitcher done for the season (regular season for the outfielder, done all together for the pitcher) and a number 3 hitter who had a 50 game stretch in which he hit .216 with 3 homers, you'd probably think I was talking about team pretty close to last place, or at least fighting hard to get to .500. In fact, I am talking about the Atlanta Braves, a team with baseball's best record, its largest division lead, and an all but guaranteed spot in the NLDS.
How is this possible? How could a team pulling along 2 absolutely abysmal starters (Dan Uggla and BJ Upton) and a three hitter/left fielder/most-talented-player-capable-of-putting-up numbers-over-not-insignificant-stretches-of-the-season-that-make-Matt-Tuiasosopo-look-good, possibly be one of baseball's best? Especially with two huge pieces on the sidelines–with very serious injuries thanks to freak on-field accidents!?!? I'm not sure, honestly. But I'm pretty sure that part of the answer has to do with Freddie Freeman.
The easy way to explain the Braves success is to blame: the Nationals, baseballs' most disappointing team; the Phillies, baseball's oldest/injured-y-est team; the Marlins, baseball's cheapest/stingiest/worst team; and the Mets, baseball's most Mets-like team, for not putting up much of a fight. While that's true, the Braves still had to win all those games.
The other easy explanation is to cite Craig Kimbrel who is all but assured the title of Baseball's Best Closer once the great Mariano Rivera hangs up the spikes after season's end. But again, somebody had to give Kimbrel a lead to protect.
Enter Freddie Freeman. Freeeman is the Braves' 23 year old first basemen. He is in his 3rd full season and has been an absolute beast for the team. Freeman tends to be overshadowed by Kimbrel and the bigger names on the team like Jason Heyward, Brian McCann, and the Brothers Upton but the truth is that he's been more important. Andrelton Simmons might be the best fielding shortstop we've seen since the Wizard of Oz (or Jose Iglesias) and thanks to that (and the fact that a .249 AVG is actually pretty good for a SS) he leads the team in WAR, but guess who's right behind him? Yup, it's Freeman, who's 3.9 wins above replacement are a lot more impressive for a player at a premiere offensive position and make his $560,000 salary look like a absolute steal.
Freeman is hitting .306 with 17 homers, 81 RBIs, a .385 OBP and a 141 wRC+ (my new favorite stat that accurately measures runs created relative to league average after controlling for ballpark effects). Freeman's wRC+ puts him 10th in the NL in that category and only 5th amongst viable MVP candidates (no offense Jayson Werth, Michael Cuddyer, Carlos Beltran).
Freeman has been a rock in the Braves lineup, a lineup that has sorely needed one all year long. As we move into October, he'll be the lefty in the middle of Atlanta's order that opposing managers lose sleep over.
Am I saying that Freddie Freeman should win the NL MVP? No, because he shouldn't. Andrew McCutchen should for leading the Pirates to relevance for the first time since before NAFTA was a thing. If not McCutchen then Joey Votto or Yadier Molina. Both are deserving candidates. But so is Freeman. He definitely deserves some votes and don't be surprised if there's a time in the very near future (a future in which Brian McCann is in pinstripes, Dan Uggla is (mercifully) blaming his eyesight somewhere in the NL West, and Johnny Venters is uncorking 95 mph sinkers again), when Freeman is the odds on favorite for the NL's most prestigious award.