Brandon Moss Is Really, Really Good at One Thing
Updated: September 5, 2013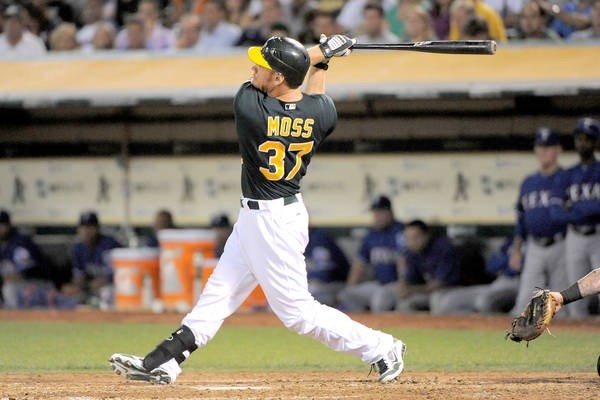 Yesterday, Oakland Athletics first baseman Brandon Moss crushed a two-run first inning home run off of Yu Darvish, who wasn't quite himself on Wednesday.  The home run was just another example of the one thing that Moss does really, really well: hit home runs off of right handed pitchers.  The home run was Moss' 26th of the year and it's time to start thinking of him as a quite capable first baseman.
Last year's surprise A's team was a surprise mostly because we didn't know who was on the team.  This year, we face much of the same problem thanks to the platoon structure of the big league club.  They play matchups and understand the platoon advantage of stacking guys into the lineup that are more likely to get hits against that days' opposing starter. It's something we see throughout baseball, but is most obvious with the small market A's.
In 2012, the A's got big production out of Chris Carter and Brandon Moss, using almost a straight platoon (both guys received about 290 plate appearances while functioning as the team's first basemen).  The result was that Oakland first basemen ranked 9th in WAR in the Majors and Max's new favorite stat WRC+ said that Oakland first basemen were the third best offensive group in baseball, behind only the Tigers and Angels.  Chris Carter was shipped to Houston, where he's continued to hit for power, and many assumed Moss would see an increased role (for better or worse).
In 2013, the A's found another platoon partner in the form of Andre the Giant Nate Frieman, but have given Moss more plate appearances.  Through 440 PA's this year, Moss has produced 26 home runs and an .835 OPS, but when you consider that 22 of those home runs have come against right handed pitchers and that he owns a .375 wOBA against righty's, we see where his real value lies.
So you understand now that he hits righty's really well over the past two years, but I haven't really provided context for the numbers yet.  Consider that his 47 home runs since the start of last year rank him alongside Albert Pujols and 1 behind Carlos Gonzalez and you begin to see the company he's keeping.
But, it's his 15.6 PA/HR that is most impressive.  He ranks 26th on the list of home runs over the past two years, but has fewer plate appearances than everyone in the top 96.  His 15.6 PA/HR ranks 3rd over the past two years with the list unfolding like this:
| | |
| --- | --- |
| Player Name | PA/HR |
| Chris Davis | 14.225 |
| Miguel Cabrera | 14.563 |
| Brandon Moss | 15.659 |
| Edwin Encarnacion | 15.935 |
| Giancarlo Stanton | 16.581 |
| Adam Dunn | 16.73 |
| Jose Bautista | 16.85 |
I can not be the only one surprised by Moss' inclusion on this list; he's ranked amongst the most prodigious sluggers in the game for the better part two years.  Now, part of his standing is the A's strict platoon usage of Moss and part is his production in that usage. He's quickly becoming one of my favorite players.
It is guys like Moss who have positioned the A's as the co-leader of the AL West.  Billy Beane and company deserve some credit for extracting value from guys like Moss, who at age 28 arrived in Oakland with 17 home runs to his name, but the players also deserve credit for continuing to provide the singular skills and traits that they've done throughout their careers.  A great combination of these singular traits makes for a good, well rounded club.
Over the past two years Brandon Moss has ranked among the best power hitters in the game and I'm tired of nobody knowing.
Stat of the Day: Rajai Davis has the most steals since the start of last year, with 86.