Under The Radar Prospects Could Make Big Impact In 2014
Updated: September 7, 2013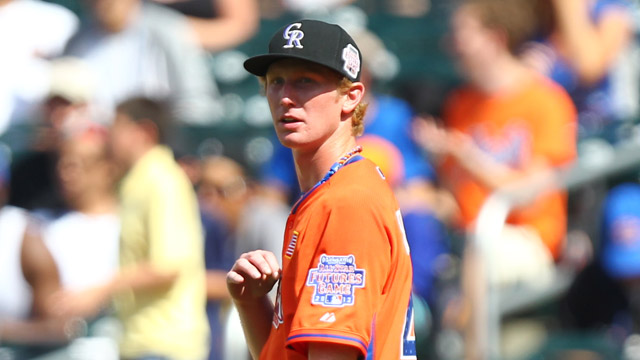 With the emergence of 20-year old rookie Jose Fernandez and the dominance of first-full-year Matt Harvey, it's important to keep an eye on the young arms dominating the minor leagues–they might just make your favorite team watchable in in a year or two.  Fernandez' and Harvey's respective dominance is not something that is likely to be repeated in the near future (20-year olds with low-2 ERA stuff don't grow on trees), but maybe one of the following guys can bring something similar in the summer of 2014.  I'm going to go with some of the more under-the-radar prospects, assuming you've already heard the names Taijuan Walker and Dylan Bundy, or watched Jameson Tailon pitch for Team Canada in the WBC.
Think of this as a list of Chris Archers–guys who have really shown something in 2013, but you probably haven't heard of yet.  We like to stay ahead of the curve here at Off The Bench and this list represents a jump on those 2014 prospect Top 100 rankings.
Archie Bradley, 21, RHP, Arizona Diamondbacks
Bradley is the most highly decorated of the prospects on the list, but he's also the best.  He was preseason number 29 on Keith Law's Top 100, but climbed to No. 8 (and the highest ranked pitcher) in his midseason update.  I'm assuming most of you didn't read as much of the midseason prospect update other than to find that the Cubs appear stacked and that Byron Buxton could be scary good.  Bradley's 2013 numbers look like he was competing against high schoolers: 1.84 ERA, 9.6 SO/9, 6 home runs in 154 innings.  He's 21 years old, a former No. 7 overall pick, and has a 98 mph fastball.  He's going to be a good one once he cuts down on his walk rate.
Alexander Claudio, 21, LHP, Texas Rangers
Claudio has pitched in relief for nearly all of his minor league career.  I'm not really sure why, as his numbers have been quite good and his delivery doesn't scream arm problems.  Still, as best I can tell, his fastball is fringy (86 in high school) and the Rangers have been slow to develop him.  He spent the better part of three years pitching in Rookie and low-A ball.  In 2013, he pitched 78.2 innings and was among the minor league leaders with 10.4 SO/9.  The Rangers have been good at developing relief pitchers (and pitchers in general) and Claudio will eventually be a piece of a good bullpen somewhere.  Just know that when Claudio is 2015′s Luis Avilan, you read it here first.
CJ Edwards, 22, RHP, Chicago Cubs
Edwards was the prize of the Cubs-Rangers Matt Garza trade and while trades have a tendency to over-hype prospects, Edwards appears to be the real deal.  His 2013 line is impressive: 1.86 ERA, 1.80 FIP, 33% strikeout rate and 8.7 BB%.  He's got all the stuff of a potential number 2, with impressive life on his fastball and a big curveball.  Check out this video:
Miguel Castro, 18, RHP, Toronto Blue Jays
The 18 year old Dominican has dominated hitters this year. Castro has made 12 starts in the lower levels of the minor leagues, but his numbers are outstanding.  1.54 ERA, 0.94 WHIP, and an 11.3 K/9 rate that ranks in the top 15 of all of the Minor Leagues.  At 18, there's a lot to learn for Castro, but the Blue Jays have an exciting young arm in their system.
Tyler Glasnow, 20, RHP, Pittsburgh Pirates
The Pirates have an embarrassment of riches in their young pitching prospects.  With Gerrit Cole and Jameson Tailon among the best pitching prospects in baseball at the outset of 2013, Glasnow has moved his way into the discussion.  Before the season, our friend Marc Anderson ranked Glasnow as the 7th best prospect in the Pirates organization.   Before the season, he had this to say: "Another large guy, standing 6-foot-7, Glasnow needs to add strength to his frame and that may allow his fastball to improve from the 88-92 range to the 90-94 range in the next couple of years. His curveball shows promise and could be a plus pitch in times but his change-up and command lag behind developmentally. Glasnow's ceiling is a long way off…."  Glasnow has countered that assessment with a 2.18 ERA , .141 average against and a 36% K rate.  He appears to have made the jump, and Fangraphs writer Nathaniel Stolz wrote this article tempering expectations for Glasnow while also slipping in "Glasnow probably has the highest ceiling of any pitcher I've seen this season."  If you love a high ceiling (and I do, especially since I've been traveling around Germany), Glasnow's your guy.
Eddie Butler, 22, RHP, Colorado Rockies
Butler's dominating performance in the Future's game and great raw stuff has gotten people excited.  He sits and 94 with good life on his fastball (see here) and has a devastating changeup (see here).  His numbers this year are great: he managed a 0.65 ERA across 6 AA starts after allowing a .92 WHIP in 9 A-ball starts and striking out 67 in 67 innings in high A .  He might be my new favorite prospect, but his future pitching in Colorado (where good pitchers don't exist, save for three months of Ubaldo Jimenez) is scary.
Stat of the Day: Eddie Butler is the only one of these guys that is older than me (and he was born in March of 1991).