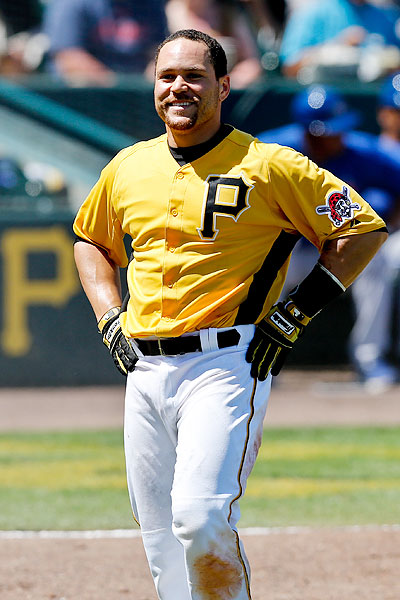 Russell Martin signed with the Pittsburgh Pirates this offseason for $15 Million over 2 years.  At first, the deal looked like it left the New York Yankees without a catcher and stuck the Pirates with an expensive one who hasn't hit over .250 since 2008.  Martin is no longer the offensive force that he was when he was a 24 year old with Vin Scully calling his home games, but don't tell me he's not valuable.
Last night's 6-2 Pirates win in Pittsburgh's first playoff game in over 20 years was spectacular.  The home crowd rattled Johnny Cuee-too and provided enough energy to power all the steel mills in Pittsburgh (that were operational that last time the Pirates were in the postseason) and left some questioning how exactly to quantify home field advantage.  From Jonah Kehri's piece at grantland.com:
We're zealots about trying to quantify everything that can possibly be quantified in baseball. But figuring out how much the raucous home crowd might have helped the Pirates (or if it helped them at all) is a pretty tall order. Per ESPN Stats & Info, home teams win 54.2 percent of the time in the MLB regular season and 54.3 percent of the time in the postseason. Is there any way we can come up with a metric that measures average and peak stadium decibel levels during playoff games and how those correlate to win-loss record? Not even really kidding here.
As interesting as such a study might be, it's not always sheer decibel level that influence outcomes.  The right jab or remark in an otherwise silent high school gym can send a star player into a tailspin of mediocrity.  I imagine pro players are similarly vulnerable in an otherwise quiet stadium.
But last night's crowd in Pittsburgh highlighted everything that has been lacking in the new Yankee Stadium: the fervor of a crowd genuinely invested in the outcome.  Russell Martin was thanking his lucky stars he opted out of New York.
-Sean Morash