Fielder, Kinsler Deal Makes Rangers And Tigers Better
Updated: November 20, 2013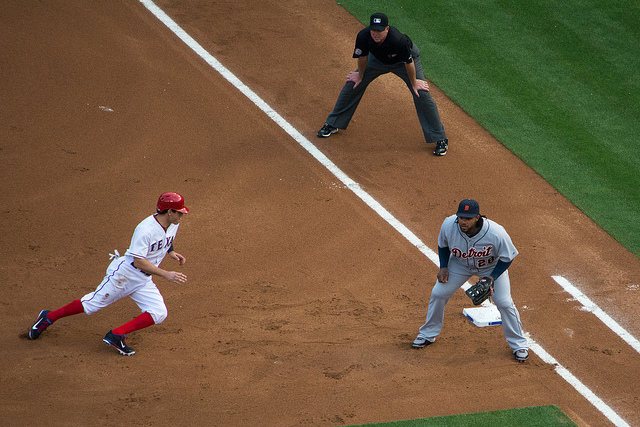 Reports are that the Detroit Tigers and Texas Rangers have agreed to a swap sending first baseman Prince Fielder to Texas and second baseman Ian Kinsler to the Motor City.  The reported deal is a straight up swap of the two infielders who have combined for 8 All-Star appearances and $230 Million left on their contracts.  I really like the deal for both clubs and am excited to see each star in their new digs.
For Texas, the deal helps to rebuild their lineup.  Prince Fielder represents a significant upgrade for the Rangers at the first base position, while also allowing stud prospect Jurickson Profar a chance to play every day.  Fielder's 2013 season was his worst since 2008 and he still managed to club 25 home runs and reach base at a .362 clip.  His 2.2 fWAR is a win and a half better than what the Rangers got from Mitch Moreland.  While that's not enough the make up the 5 games that they finished behind the A's, Fielder's presence should allow for more productivity out of their DH.  The Rangers managed just 6 home runs from their DHs in 2013 after the Lance Berkman deal failed.
After accounting for Fielder's $8 Million higher annual salary, the Rangers still have roughly $30 Million in available payroll to construct next year's roster.  Baseball pundits had been advocating for a Texas pursuit of Robinson Cano even before this trade, and that courtship makes even more sense now that the Rangers middle infield situation is at least somewhat less cluttered.  Any Cano deal would result in the Rangers shipping wither Elvis Andrus or Profar out of town. Brian McCann and Jacoby Ellsbury are also still certainly on the Rangers radar.
For Detroit, the deal solves a number of internal problems.  Chiefly, Nick Castellanos will likely take over at 3rd base and shift Miguel Cabrera back across the diamond.  This will drastically improve their infield defense, and lessen the strain on Cabrera, who was largely immobile at third following injuries this past year.  Also, though the difference between the Fielder and Kinsler contracts isn't huge, the latter is shorter by 3 years and should allow the Tigers to keep their outstanding rotation intact for at least another season and potentially longer.
I also like the deal for Detroit in that it gives the Tigers more flexibility with the DH.  While Prince's iron man status is great and all, it locked Victor Martinez into the DH role.  V-Mart should be able to play some first base next year and that will allow Miggy to rotate through at DH, keeping him even fresher.
As of right now this is a fantastic trade for both sides, certainly making each team better for the 2014 season.  Only time will tell how much of an albatross Fielder's $24 Million salary will be in 2020, but for now the Rangers and Tigers struck a deal that I wish I had thought up.
Stat of the Day: Prince Fielder once stole 7 bases in a year.  That same year, Ian Kinsler stole 11.