Three Trades For Aramis Ramirez
Updated: November 26, 2013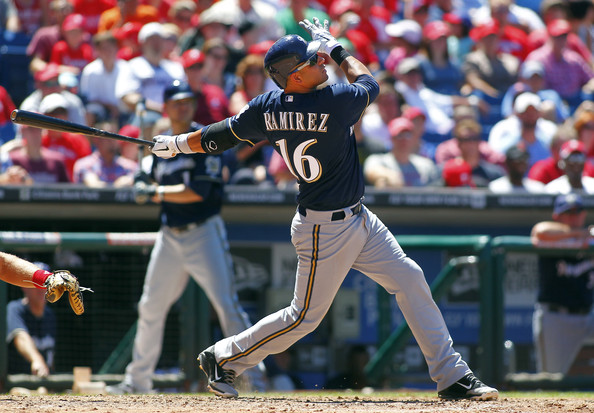 Milwaukee Brewers third baseman Aramis Ramirez is set to make $16 Million in 2014 and could be a free agent next winter.  The three year-$36 Million deal that Ramirez signed in the winter of 2011 is extremely backloaded and contains a mutual option for $14 Million in 2015.  He's coming off a year in which he hit .283/.370/.461 and is one year removed from leading the NL in doubles.  Ramirez has long been underrated and overlooked in discussions about the best third basemen, even while collecting MVP votes 5 separate times.
The Brewers  are coming off a year in which they won just 74 games, and should not simply run things back with the same cast, even with Ryan Braun returning from suspension.  With Braun's return and an outfield trio of Khris Davis, Carlos Gomez and Norichi Aoki that was dynamic in his absence, the Brewers have a crowded outfield.  While I'm going to refrain from suggesting Ryan Braun return to third base following an Aramis trade, such a move would indeed allow the Brewers to get the most out of their offensive talent. However, Braun's -3.0 dWAR in his lone season at the hot corner reminds us why he was switched to the outfield.  
The Brewers finished 8th in the NL in runs scored despite the consistent mess they ran out to first base and their star player's prolonged absence.  A rotation reliant on Wily Peralta and Marco Estrada in the #3 and #4 spots respectively does not foretell a playoff team.  For a better discussion of their rotation than what I'll provide in this space, visit Disciples of Euker.
Simply, upgrades are necessary and Aramis Ramirez represents the most logical piece that could be moved in an effort to improve the club.  The Brewers have gotten great value for their Ramirez investment to this point, but the organization is in a position where it needs to upgrade.  The $16 Million commitment to Ramirez represents the largest for the Brewers in 2014 and they'd be well suited to move the slugger.
Let's take a look at some options.
Trade Number 1: The Los Angeles Dodgers acquire Aramis Ramirez for minor league pitchers Zach Lee and Onelki Garcia.
The Dodgers need a third baseman and appear best suited to do so with a trade of one of their outfielders.  As outlined above, the Brewers do not need another outfielder in their mix, but do possess the best third baseman available via trade.  The Dodgers recent acquisition of Dan Haren gives them a rotation that should boast 6 veteran starters once Chad Billingsly is ready to return from shoulder surgery in mid-May.  The payroll juggernaut seems destined for an organizational structure wherein they acquire veteran, reliable pitchers rather than rolling the dice with younger guys. This Yankees thought process makes their pitching prospects expendable.
RHP Zach Lee was #78 on MLB.com's preseason Top 100 Prospects and pitched well in 2013 at AA.  The 22 year old should be ready to contribute to a big league rotation by mid-season.  Onelki Garcia is a LHP, who figures to contribute to big league bullpens going forward.  The 24-year old made three appearances for the Dodgers in September and struggled with command.  He recorded 4 outs while walking 4, but his minor league walk rate suggests those walks were more thanks to nerves.
This trade makes tons of sense for the Dodgers, but the Brewers may be looking to acquire more certainty in their rotation from the outset of Spring Training than what Lee would provide.  Still, acquiring a top 100 prospect for a player that could be free agent at years' end would be a good get.
Trade Number 2: The Atlanta Braves acquire Aramis Ramirez and RHP Kyle Lohse for 3B Chris Johnson, LHP Alex Wood, LHP Sean Gilmartin, and RHP David Carpenter
A trade meant to stabilize the Brewers starting pitching and begins with them trading their best pitcher makes me sound like Jim Bowden.  That said, I like this trade for the both teams.  The Braves have been linked to Lohse for some time and would surely target him in the deal that, with Aramis Ramirez, represents a chance to upgrade the team elsewhere.
Johnson heading back to Milwaukee gives them an immediate replacement for the departed Ramirez, while Alex Wood has the potential to be a special starter at the big league level.  His 3.13 ERA across 77 innings (11 starts, 20 relief apps) speaks to his ability, but watching him progress with each start really solidifies it for me.  Sean Gilmartin is a Major League ready lefty with fringy stuff that seems destined for the back end of a bad rotation or in a long relief role.  Meanwhile, in David Carpenter, the Brewers get a very good reliever to help solidify a bullpen that was not good in 2013.
This is a big trade with a lot of moving parts that really makes sense.  While I'm not omniscient about the Braves or Brewers organizational infrastructures, a trade centered around Aramis, Lohse, and Johnson seems doable for both clubs.
Trade Number 3: The Philadelphia Phillies acquire Aramis Ramirez for 3B prospect Maikel Franco and LHP Jake Diekman.
The Phillies were downright bad for stretches in 2013.  Their rotation behind Cliff Lee and Cole Hamels was a mess and the lineup had holes thanks to a down year from Ben Revere, Carlos Ruiz' extended absence, and Michael Young's slow bat.
This trade does not make a ton of sense for the Brewers in a vaccuum, but Maikel Franco may be ready to step in at 3B in 2014 and freeing up the salary owed Ramirez allows the Brewers to fill holes elsewhere.  (Perhaps signing someone to play first base?)  Jake Diekman is a good lefty reliever (thats the one thing the Phillies have) that could contribute to the Brewers bullpen equation.
From a Phillie perspective, Cody Asche is less than exciting at third base.  Further, he's another left handed hitter in a lineup that has Chase Utley, Ryan Howard, and Dominic Brown as it's main cogs.  Ramirez would help to give the lineup more balance.  The Phils may be more willing to trade Asche and give Franco the job in 2015, but would have to get creative in giving the Brewers more value in return.
Aside from these scanarios, I expect the Brewers to make a strong push for Justin Morneau to help solidify first base.  Further, a number of complimentary deals to fill out the 25-man roster with more talent could make this a competitive club in 2014.  With the Cardinals seemingly in a good position to repeat, the Pirates and Reds remaining relevant, and the Cubs prospects nearing the Big League level, the Brewers need to make good decisions this offseason lest they fall into the Astro-sphere.