Locking Up Jason Heyward And Freddie Freeman
Updated: December 28, 2013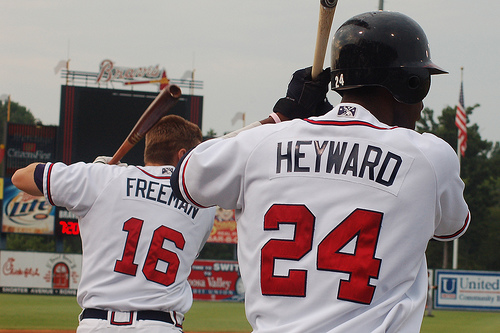 Atlanta Braves fans seem starved for movement following a 96-win 2013.  What they've gotten so far isn't ideal.  Thus far, the Braves' major moves this offseason have been signing Gavin Floyd (a pitcher who can't pitch), and trading for Ryan Doumit (a catcher who can't catch).  They also made headlines as they announced plans for a slightly different kind of move: out of the 17-year old Turner Field for a new home in the suburbs north of Atlanta's city limits.  Because of payroll constraints that the Braves have had to navigate, they've been forced into modest moves that will likely fail to replace the production of All-Stars Brian McCann, who will don pinstripes, and Tim Hudson, who found a better paycheck in San Francisco.
However, there's reason to be excited about the Braves future.  They've got a number of young, talented players that are under team control for at least a few more years.  Freddie Freeman, Kris Medlen, Jason Heyward, Mike Minor, Chris Johnson, and Craig Kimbrel are all eligible for arbitration this year.  The payroll that had been devoted to Brian McCann and Tim Hudson all but evaporated with so many guys due arbitration raises.  Of that group, Freeman and Heyward are the most interesting candidates for extension.  For both club and player, now is the best time to discuss the long-term.  Let's handicap what a deal for each might look like.
Freddie Freeman is just 23 and finished 5th in the MVP voting in 2013.  The earliest he'll be a free agent is 2017, but thanks to the arbitration process, he will see his salary climb quickly before he reaches the open waters.  Really, the Braves would have been better locking Freeman up last year, before his breakout campaign, but better late than never.
I poked around and found that a 24 year old Paul Goldmschmidt signed a 5-year, $32 Million deal before the start of 2013.  He had just 764 MLB plate appearances before last year.  Following Goldschmidt's runner-up MVP finish, the deal looks to be one of the most team friendly in the league. At age 22, Anthony Rizzo inked up a 7-year, $41 Million deal before last season.  Rizzo had just 521 PAs before signing up.  And last March, the Cardinals agreed with Allen Craig on a 5-year contract worth $31 Million.
Freeman's 4.8 WAR was higher than Prince Fielder's in his 23 year old season of 2007.  Fielder and Freeman were both first time eligible for arbitration at age 24.  Prince and the Brewers never agreed to an extension, but his three arbitration years awarded him $33.5 Million–and then he left for the big city money.  One final player comp: before his age 25 season and with over 2,000 PAs under his belt, Billy Butler agreed to a 4-year $30 Million deal.  Baseball-Reference thinks Freeman could make about $5 Million this coming year so an extension would start there, and would be modeled somewhere between the Butler and Fielder pay history.  The Braves would do well with something like a 5 year, $50 Million deal that would keep Freeman in the blue and red through 2018, and would knock out his arbitration years plus the first two years of free agency.
I propose the following structure when factoring Dan Uggla's contract into the payroll considerations:
2014: $4 M
2015: $7 M
2016: $12 M
2017: $13 M
2018: $14 M
Jason Heyward is a bit less proven than Freeman, but offers more potential to the club because of his all-around game. In his two healthy years, Heyward has managed 12.2 combined WAR.  However, he's battled injuries.  None the less, he's still accounted for 18.4 WAR through his first four seasons.  He's a very good player if not the perennial MVP that many foresaw.  Heyward is one year ahead of Freeman on the service time chart and could be a free agent following the 2015 season.
Again, I poked around the Internet and found some examples that could begin the Heyward extension discussion.  Andrew McCutchen signed a 6-year, $51.5 Million deal following his All-Star age 24 season.  McCutchen has since made the jump and is now the reigning MVP.  Adam Jones was one year older than Heyward, but in a similar service-time situation when he agreed to a 6-year, $85.5 Million deal. Fellow Braves outfielder Justin Upton could prove a useful model for the Heyward negotiations: Adapting the Upton deal to Heyward today would equate to a 4 year, $43 Million deal.
Baseball-Reference thinks that Heyward will make $4 Million in 2014 and the Upton deal mentioned above would earn him $6.75 in 2014.  Still, a 4-year, $43 Million deal would buy out two of Heyward's free agent years and ensure that he sticks around in Atlanta Georgia to see the new stadium.  I think a better deal might be a 5-year, $55 Million agreement to buy out three years of potential free agency.  That may be a little too low when considering the Adam Jones example, but Heyward's injury history is not shared in Jones' case, nor is the power on par.
To recap, based a recent history of contract extensions, Heyward and Freeman could be had for something like 5 years, $50 million each.  Or I could be completely wrong and either could ask for Josh Hamilton type money: 5 year, $125 Million.  Or either could trust their performance over financial certainty and pursue the traditional route through arbitration and free agency.  However it works, Freeman and Heyward will definitely be in Atlanta in 2014 and '15.