The San Diego Padres acquired Seth Smith in a trade last winter.  It wasn't a move that generated many headlines as Smith had just finished a season in which he hit .250 with just 8 home runs to go with well below average baserunning and poor defense.  Luke Gregerson, the player that the Padres shipped to Oakland for Smith, is a good reliever; a solid 8th inning guy who has filled in and recorded saves when needed.  Still, not too many people batted an eye.  Smith was seen as a platoon outfielder who might be asked to play everyday for a team as devoid of offense as San Diego.  Predictably, Smith has seen more action for the last third place Padres.  But a funny thing has happened in the midst of that action: Smith has been good.  He's among the top 10 in the Majors in wRC+, the metric that "brings all the virtues of wOBA plus two added benefits; park and league adjustments." 
Seth Smith is a top 10 major league hitter according to the most advanced of sabermetrics.  Let that simmer.  
How did he get there? Well, the 31 year old has done well in the past.  Back in 2009, seeing his first extended action, Smith hit .293/.378/.510 for the Rockies.  He's always hit right handed pitching: career .281 hitter, with an .852 OPS against righties.  He's very simply a good hitter who consistently puts together good at bats.
But we knew that.  He's a boring .280 hitter with a .360ish OBP who offers little in the way of home runs and even less production outside of the batters box.  Why are we talking about him?
In 2014, the league average OBP is .315.  Smith's apptitude for getting on base has grown more valuable as his peers have consiste2ntly declined.  His uptick this year also justifies my writing this (and you reading it).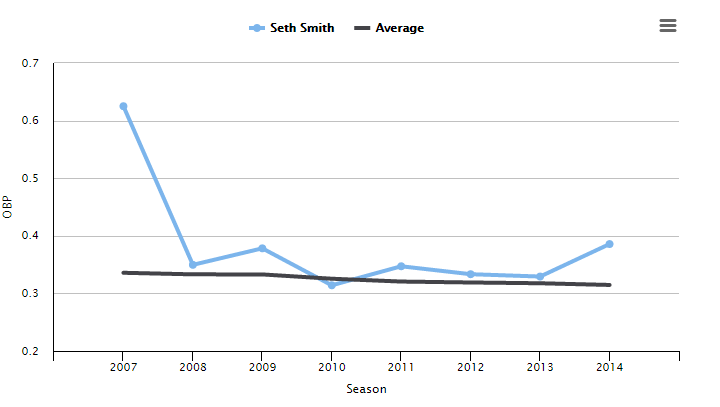 Now, let's compare the two players from the post title. Below are their lines:
| | | | | | | | | | | | | | | |
| --- | --- | --- | --- | --- | --- | --- | --- | --- | --- | --- | --- | --- | --- | --- |
| | PA | HR | R | RBI | SB | BB% | K% | ISO | BABIP | AVG | OBP | SLG | wOBA | wRC+ |
| Player A | 434 | 12 | 51 | 41 | 1 | 13.40% | 16.40% | 0.196 | 0.323 | 0.285 | 0.386 | 0.481 | 0.380 | 148 |
| Player B | 479 | 19 | 75 | 69 | 9 | 13.40% | 23.00% | 0.241 | 0.368 | 0.300 | 0.396 | 0.542 | 0.402 | 155 |
Obviously Player B is the better player.  Get it – B is for better.  But, in all seriousness, both sport identicle walk rates, similarly high averages, and may knock the ball out of the ballpark from time to time.  Player A is Seth Smith, while Player B is Paul Goldschmidt.  Goldy is widely regarded as one of the top 5-10 hitters in the National League.  He finished second in the NL MVP voting last year with rate numbers that are not all that far removed from this year's.  Goldschmidt is an exciting player who can do it all.  Smith is a boring player who, apparently, can do mot of it.
Why isn't Seth Smith considered among the best hitters in baseball this year?  Why hasn't he been given credit for taking "The Leap"? Well, there are a few factors at play. Foremost, he plays for the Padres and nobody on the Padres ever gets enough attention.  Additionally, he doesn't steal bases or hit many homeruns, traits that might make him a fantasy baseball hero.  He doesn't score all that well in WAR, as his deficiencies on defense and baserunning leave him in the company of Pablo Sandoval, Alexei Ramirez, and Jimmy Rollins.  But when we look at offense alone, wRC+, he finds himself shockingly ahead of Robinson Cano, David Ortiz and Miguel Cabrera.
Seth Smith isn't an exciting player, truth.  But a guy who gets on base 1% less often and slugs 60 points lower (much closer after adjusting for home ballpark) than Paul Goldschmidt should be getting more credit.
New Padres GM AJ Preller, doubtless a tireless folloshould not stumble upon OTBB and cite this post as support for offering Smith a long-term, expensive extension.  In fact, Smith is best served on a team with a home ballpark where his defensive inefficiencies are less of a problem.  I repeat, Seth Smith is not someone that the Padres should build around.  His profile as a slowpoke defensive outfielder without much power, is not suited for this team, in PetCo.  That said, his skillset, namely the ability to get on base, see pitches, and strike the occasional homerun should be very valuable on the trade front.  Padres fans: while Smith's prodding approach in the middle of the order may not have led to the most exciting of summers, he has tremendous value and could be used to bring in fresh, fun, talented new players.
As recently as three weeks ago, Max wrote this piece about the job that AJ Preller had in front of him.  In it, he said "Smith is a platoon outfielder on a good team."  I respectfully disagree.  Seth Smith is a top offensive force in the National League.
-Sean Morash
Stat of the Day: MLB Rule 8.04 states that pitchers have 12 seconds to throw a pitch from the time they get the ball. Currently the Rays are the slowest team in baseball, taking 24.9 seconds between pitches